In this article, we will discuss the best medicine delivery apps USA. No more prescription lines! According to statistics, more than 60% of customers prefer online pharmacies to traditional pharmacies. Because of the pandemic and people's hectic lifestyles, online pharmacy stores and apps are becoming increasingly popular. In the United States, on-demand drug delivery apps can help with drug purchases and help pharmacies innovate.
With an internet connection, you can have medical supplies or a prescription delivered to your door. Medical apps are popular because they eliminate the need for people to leave their homes to purchase medications. Before we get into the best pharmacy apps in the United States, let's talk about how important drug delivery apps are for both customers and pharmacies.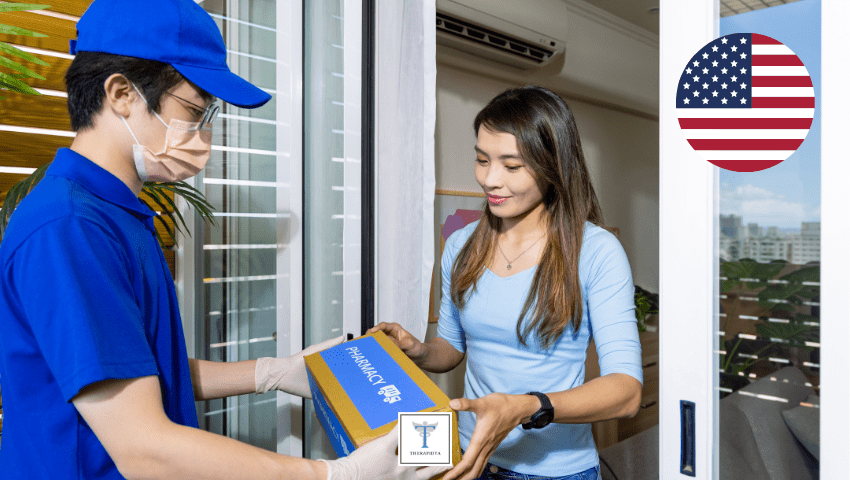 About Medicine Delivery in USA
In the crowded pharmaceutical industry, innovations, marketing activities, and company growth strategies can help companies stay afloat. The anticipated market growth and its potential for business development can shape the current popularity of the electronic pharmacy market. According to one study, the global e-pharmacy market is expected to be worth $42.30 billion in 2018. The market is expected to reach $107.50 billion by 2025, with a compound annual growth rate of 14.25 percent.
It is difficult for offline retailers to keep up with customers' demand for medicines and healthcare supplies due to the ever-increasing need, especially during the pandemic.
Another important factor driving the development of online drug delivery apps is the convenience of getting medicines at a lower cost from the comfort of one's own home, eliminating the need for consumers to physically visit stores. This is where the development of online drug delivery apps comes into play.
Online stores, on the other hand, may be able to meet a wide range of global needs. That is why many businesses and medical institutions are focusing their efforts on going online, or developing an online drug delivery service. Customers who purchase medicines online can benefit from attractive discounts, express home delivery, and expedited home deliveries, among other benefits.
The Benefits of Medicine Delivery Apps USA
Customers can use this application to order medicines from any pharmacy that is registered in the market.
Customers have more options and can compare prices as a result of the benefits of this business model.
Multiple companies can register; this is an excellent option for new businesses because it can assist them in attracting customers.
Single Stores: Customers can place orders with online retailers by submitting their prescriptions in this configuration. Then, before sending the drug delivery app to their customers, the retailers double-check product availability. Users can then purchase the drugs either online or offline. Prescription delivery apps can help customers in the following ways: Some customers are hesitant to purchase certain prescriptions from a local store where they will be seen by others. They can maintain their privacy more quickly with an on-demand drug ordering and delivery app.
Also read: Which One to Choose: SingleCare vs. GoodRx
Request For Non-contact
Reduced human interaction is critical during a pandemic.
Many diseases have a high risk of transmission through contact, and online pharmacies are an excellent way to avoid contact with people.
Frequently, the patient is unable to purchase medications at a local store and must spend significant time and effort looking for them elsewhere.
There is no such issue with an on-demand pharmacist app.
Comparison Shopping and the Best Deals
Branded pharmacy apps provide their customers with a variety of promotions, discounts, and even lower prices than physical pharmacies.
Treatment for compliance is straightforward.
The drug's precision has improved.
Boost productivity.
Lowering the amount of medical waste generated
Set aside money
Medicine applications benefit pharmacies as well:
Increasing Customer Satisfaction
According to a Raconteur study, an online drug delivery app makes a patient's life easier, especially when the app is integrated with the NHS e-prescription service in the USA.
Inventory Control Has Been Improved
When using our online drug ordering and delivery software, pharmacists do not need to manually update their stock levels.
Because orders are placed online, the inventory is automatically updated after each sale.
Boost Profits
Pharmacy app development is a logical result of increased mobile user purchases, as well as a way to increase profits.
The Benefits of Being at the Forefront
The online pharmacy industry is rapidly expanding, and many customers have already begun to order online.
It's also an investment in your pharmacy's reputation as a forward-thinking, customer-focused, and caring establishment.
Features that are simple to use.
It's simple to sign up and log in.
Medicines are easily accessible.
Option to add to cart.
Comparison and selection of products
Please place an order as soon as possible and track it as easily as possible.
Returns are free of charge.
Product overview and insights
Push notifications and pop-ups
Payment options that are simple and secure.
Option for quick reordering.
Discount coupons and incentives Simple communication in app review and brand development.
Customer Service and Participation
Without a doubt, developing drug delivery applications is a lucrative industry. Because of the world's current epidemiological situation and the uncertain future, systems that provide home delivery of medicines will become more common. Begin developing your prescription delivery app today, and you'll have a secret weapon to help you stand out in the coming years.
Also read: Amazon pharmacy
Medicine Delivery Business Models in USA
Most drug delivery companies use one of two business models to run their operations and generate revenue. You must first define the best business plan for your company before you begin developing a drug delivery app.
Examine the differences between the two basic business models below:
The Initial Business Model
This business model works best for large pharmacies with a large inventory of medicines. Such businesses can create their own drug delivery application and transition from the offline to the online world. The main benefit of this corporate strategy is that it increases brand recognition. This business strategy still necessitates a large supply of medication.
Second Commercial Model
The second business model involves acting as a go-between for clients and pharmaceutical companies.
These prescription delivery apps serve as order aggregators, delivering medications from third-party pharmacies.
Under this business model, the developers of these apps are not required to stock any drugs. They are solely in charge of receiving, processing, and transmitting orders to pharmacy delivery drivers. Before you begin developing a drug delivery app, you must select one of the available business models based on your industry.
In this way, you will be able to better organize the development process, come up with the best feature set, and find a vendor with relevant experience.
Technology Stack For Developing Online Medicine Delivery Apps
Online drug delivery apps are made up of several components and have a complicated back-end design. A well-chosen technology suite ensures that pharmaceutical delivery applications are developed smoothly. Creating a pharmacy delivery app necessitates the creation of a front-end and a back-end, as well as the use of APIs (Application Programming Interface).
The Conclusion of the Introduction
The part of the web page with which the user interacts is known as the front end, also known as the "client side" of the application.
Everything that people are exposed to on a daily basis is included.
Front End Libraries and Frameworks:
Angular GS
Single Page Web Applications (SPAs) are created using AngularJS, which is JavaScript and is open source. It is a framework that is constantly evolving to provide better ways to create online applications. Dynamic HTML replaces static HTML and is a free, open source project that can be downloaded. HTML is used to bind data to HTML attributes and to add directives.
Flutter
Flutter is a Google SDK-managed open source user interface developer. From a single code base, it generates high-performance, attractive, natively built apps for mobile (iOS and Android), web, and desktop.
The main reason for the surge in Flutter app development is the flexibility in user interface and expression development. Some of the best flutter app development companies are M Liquido, Droids On Roids, and Merixstudio.
End Result
The back end of a website refers to the server side. It organizes and stores data while also ensuring that everything on the client side of the site is operational. It's the part of the website where you can't see or interact with anything.
Frameworks and libraries for the backend:
Express, Django, Rails, Laravel, Spring, and other frameworks are examples of backend frameworks. Back-end programming/scripting languages such as C#, Ruby, REST, GO, and others are available.
API (Application Programming Interface) (Application Programming Interface)
An API (Application Programming Interface) is a protocol that describes how an application's front-end and back-end interact.
APIs can also be used to integrate an application with third-party services quickly.
Frameworks For Mobile App Development That Are Open Source
A solid mobile strategy is required for any company that wants to win customer retention and scale while also cutting costs. Many businesses, however, are unsure of how to get started with mobile app development. The first, and possibly most important, decision is whether to create a custom mobile app or use an off-the-shelf solution.
On-demand mobile application development is the process of creating software applications for a specific user or group of users within an organization. It is a customized software designed to meet the needs of a specific company rather than the general market. Custom software is designed specifically for your business, eliminating the need to modify your business practices to accommodate a pre-developed software solution.
The software seamlessly integrates with your existing business software ecosystem, eliminating the need for multiple applications to perform specific business operations. The solution is designed with infrastructure in mind and does not include unnecessary capabilities that increase the system's requirements; you can save money on hardware acquisition.
You have complete access to the original development team, allowing you to quickly and effectively resolve any issues that arise. Because hackers have less incentive to try to break into a system that only one company uses, dedicated software reduces external risks to your company. There is no publicly available documentation to shed light on potential attack vectors.
Engage in Native App Development
For several years, React Native has been a hot topic in the mobile development market. Not surprisingly, it has dominated the IT industry by allowing developers to create mobile apps for both iPhone and Android app developers simultaneously. React Native is used in a variety of industries and has been adopted by hundreds of companies worldwide, including Uber, Microsoft, and Facebook.
React Native (or RN) is a popular JavaScript-based mobile app framework that allows developers to create native-looking iOS and Android apps. Using the same framework and code base, you can create apps for a variety of platforms. Facebook released React Native as an open source project in 2015, and it quickly became one of the most popular mobile development solutions. Many popular applications, including Facebook, Instagram, and others, are built on the React Native platform.
Hire a React Native expert to develop iOS and Android mobile apps that are intuitive, visually appealing, simple to use, and scalable. Many businesses now prefer React Native because it allows them to write almost all of their code in JavaScript. It also enables them to share it across iOS and Android without having to pay for two separate teams of developers to manage two different code bases; as a result, there is plenty of opportunity to interact with native mobile app developers.
Best Medicine Delivery Apps USA
CVS Pharmacy
CVS Pharmacy is a subsidiary of CVS Health, which was founded in the United States, and it is the largest pharmacy chain in the country, with over 9,000 locations.
This program, in addition to pharmaceuticals, allows users to order the most popular health products, such as first aid kits, personal care kits, and so on.
The best example of a flawless prescription ordering and delivery experience for users is CVS Pharmacy, which has a rating of 4.3 on the Google Play Store.
Capsule is another popular online drug delivery app that provides its customers with free same-day delivery. The Capsule Pharmacy Delivery app should serve as a catalyst for anyone interested in starting something similar in the near future.
With 4.9 stars on the Apple App Store, great features, and multi-million dollar revenue, the app has become a good example.
Knox
Knox, which was founded in 2015, has quickly established itself as one of the most popular drug delivery apps in the United States. The app has a simple registration process that allows customers to join and receive their medication right away. Patients can also use the app to make an immediate video call with pharmacists and obtain the medications they require.
The application's functionality is based on new technologies that help reduce delivery time and costs while providing the best possible customer experience.
PillPack
PillPack is an Amazon-owned online pharmacy that provides free pharmaceutical delivery to customers' homes. PillPack has two distinct features that allow it to tailor its services to its customers. To begin, when customers order medications online through PillPack, their orders are delivered to their homes and sorted according to the amount and time prescribed by their doctors; this eliminates the risk of patients forgetting to take their medication.
Customers who create a PillPack account can also access their caregivers, which is an excellent feature of the app. This notifies loved ones and allows the pharmacist to contact the caregiver if they have any questions. If you're thinking about developing a popular drug delivery app, don't overlook PillPack's excellent features.
NetMeds
NetMeds is a well-known online drug delivery service in the United States that allows customers to place orders from anywhere in the world. Using the app, you can submit your prescriptions and place your order in minutes. All medicines are discounted by 15%, and delivery takes two to three days.
With over 4 million users, Netmeds has proven to be the world's most popular drug delivery service, serving on-demand medical needs. Customers cannot deny that NetMeds offers a hassle-free purchasing experience. It has a rating of 4.4 stars on the Google Play Store.
NetMeds is becoming a more appealing program as a result of improved features such as quick payments, simple setup, instant alerts, and easy navigation. This software allows for the delivery of fitness-related products as well as the purchase of medications.
1 MG
1MG is one of the most popular on-demand drug delivery apps in the United States, allowing users to buy medications while on the go. This drug delivery app has a large and dedicated user base, as well as low-cost medical supplies.
Dosage, side effects, administration, safety precautions, and other critical information are all covered. Allopathic medicines, homeopathic tablets, Ayurvedic herbs, and over-the-counter medications are also available.
It has 4.4 stars on Google Play and is a comprehensive healthcare app for all medical needs.
Medlife
Medlife is a popular pharmacy delivery app in the United States, with an easy-to-use interface. Items are delivered within 24 to 48 hours, and you can pay for the drug with cash on delivery. Furthermore, Medlife sells over 100,000 OTC (over-the-counter) medications that do not require a doctor's prescription.
Medlife is a multi-award winning healthcare app with over a million certified users. It sells healthcare products and services online in over 2,500 cities and 25,000 zip codes.
You can order a variety of products and services from Medlife. Medications, over-the-counter medications, doctor consultations, and diagnostic tests can all be obtained from the convenience of your own home.
Rite Aid
Rite Aid is one of the most popular drug delivery apps in the United States. He owns a medical store in the United States where people can order medications with a single click. Customers can now purchase health, nutrition, and fitness products as well as medication through the app, making it more than just a drug delivery service.
Rite Aid announced the opening of new coronavirus testing centers in New Jersey, Ohio, and Michigan. Assume you are invested in the success of these applications and believe that this market has the potential to grow and generate a profit. In this case, you should begin developing your site immediately.
Hippocrates
Hippocrates is a well-known drug reference app based in the United States that offers information on medications, diagnoses, and disorders. The app has a lot of appealing features, such as pill recognition and a medication calculator that helps you figure out how much to take. This app is particularly popular among Android users who have recently updated their operating systems.
Doximity
Doximity is the latest healthcare smart app developed by the Hippocrates founders. This program is primarily for physicians because it offers a free one-on-one networking platform for physicians, surgeons, and other healthcare professionals. This software's best feature is that it allows doctors to change their profiles, ensuring that the database is error-free. This app allows doctors to send HIPAA-compliant encrypted faxes and texts about medical issues.
Conclusion
Among the most popular new methods used by mobile app development companies are drug delivery apps, also known as online pharmacy apps. These apps help healthcare providers raise funds and keep customers from wandering around looking for recommended medications.
Drug delivery apps have had a significant impact on the pharmaceutical industry, and people are no longer queuing in medical stores to purchase medications. Furthermore, healthcare providers are converting their services into apps in order to expand their business. All of this means that a well-designed drug delivery app can assist healthcare organizations in saving money while also preventing customers from wandering around looking for prescription drugs.
This post is also available in: Nederlands (Dutch) Français (French) Deutsch (German) Italiano (Italian) Română (Romanian) Русский (Russian) Español (Spanish)