In this article you will find evertthing you need to know about hospital management specialization. In the health care industry, hospitals are expected to improve their management skills to survive. This specialization is designed to help students learn how to manage hospitals effectively.
In this specialization, students will learn how to develop a hospital's strategic plan and implement it effectively. They will also learn about the different types of management styles that exist and understand the importance of leadership in healthcare organizations. Continue to read to learn more about details.
What is Hospital Management?
Hospital management is the supervision of all hospital personnel work, including doctors, nurses, health care professionals, and others, in order for them to perform their jobs efficiently and effectively. In some ways, the functions of the hospital director and the health care director differ. While hospital directors communicate directly and on a regular basis with doctors who work on the front lines with patients, healthcare managers focus on how to do the work and delve into critical and financial analyses to get the job done. [1]
Hospital management is a modern concept in management, and it is one of the most important and profitable jobs in the health sector. It was traditionally occupied by senior specialists, but with the increasing complexity of hospital-related activities, a function dedicated to hospital management has become necessary, and the people who organize, coordinate, direct, and supervise the provision of health care are referred to as hospi managers. [2]
The hospital management specialization provides the administrative skills required to provide high-quality health and medical services to those in need. Hospital administration is the link between health care services and those who provide them. This position necessitates the efficient use of the hospital's physical and financial resources, as well as the creation of an institutional work environment conducive to growth and development. It is staffed, and people with medical or non-medical academic backgrounds are welcome to work in hospital administration. [2]
What are the Job Opportunities for Hospital Management Graduates?
Students in the field of hospital management seek to obtain a degree in health care management, and with this degree, they can work in hospital administration or in health care management, and in both jobs, they will supervise all daily operations with regard to various medical and health cadres, as well as in managing Hospital budgets, in addition to carrying out activities directly related to the work of the various departments. [3]
Also read: Best 100 Hospitals in United States
Features of the Profession of a Hospital Manager
The importance of the hospital management profession has grown as a result of the increased emphasis on the quality and quantity of health-care services provided by hospitals and treatment centers. The following are some of its most important characteristics: [4]
The position of hospital director is in high demand.
Because of increased demand, wage expectations are high.
Increasing opportunities for career advancement and gaining valuable experience
Hospital Manager Responsibilities
The hospital director is responsible for a wide range of tasks related to the hospital's operations and activities. The following are the most important of these tasks: [5]
Focusing on the public image of the hospital, which necessitates identifying the changes that must be made in order to achieve the highest standards of service; This has a direct impact on society's perception and appreciation of the hospital's work.
Although the hospital director deals with a limited number of patients, he is present in the hospital for long hours, sometimes on weekends, and is in constant contact with the staff to solve any emergency problems.
Supervising hospital staff, policies, and financial matters in order to balance the hospital's efficient work, providing the necessary care, and meeting financial goals.
Creating the hospital budget and defining the departments' goals.
Create strategies to ensure service effectiveness and quality.
Work to provide the hospital with the necessary funding and support.
Ensure that all departments follow business laws and regulations.
Communication with various departments and departments must be effective and continuous.
Assisting the hospital's investors and board of directors.
Managing the agenda and the operations of supplying the hospital with the necessary materials.
Raising community awareness and education about the importance of health issues.
Flexibility in dealing with changes and technology, as well as collaboration and coordination with colleagues.
Hospitals adhere to several strict medical controls; particularly in densely populated cities, this necessitates the employment of a large number of medical service providers whose work necessitates the use of complex and expensive technology to perform medical diagnostics, operations, and surgical interventions.
As a result, hospital management entails more than just providing services that meet the required quality standards; rather, it is carefully observed in a changing and unpredictable work environment, where patient care without strong leadership and a clear management vision devolves into chaos, so hospital managers must be decisive and able to solve problems quickly no matter how much pressure is placed on them. [6]
Qualifications and Skills Required for a Hospital Manager Position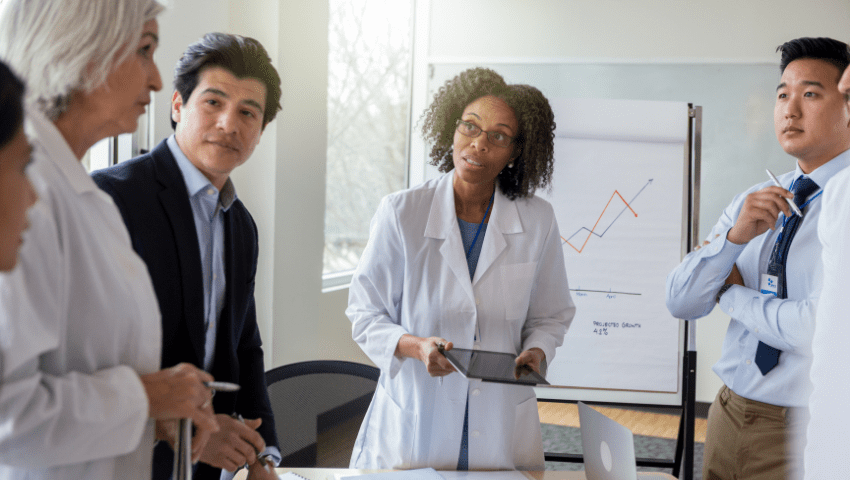 An applicant for the position of hospital director must have the following qualifications: [4]
He must have a master's degree in hospital management because this study covers the academic background required to carry out the various hospital manager tasks such as accounting, human resources, and others.
Some hospitals prefer that applicants have a medical or nursing degree, but this is not required.
The applicant must also possess some skills, including the following: [5]
Analytical skillsThese skills include the ability to understand and follow established policies for the business.
Technical skills: It requires constant access to the latest developments in the world of health care and information analysis.
Communication skills: The hospital manager must be able to communicate the policies and methods of work to the staff in a clear and understandable manner, and be able to communicate with the public in an effective manner.
Driving skills: Skills include hiring and training the right cadres, motivating staff, and finding creative solutions to problems related to staff or patient care.
Hospital Management Tips
Here are some helpful hints for a successful and distinguished hospital administration: [7]
Continuous training of hospital staff: Hospital administration should encourage new and existing employees to participate in continuous training to improve their job skills, and it is preferable that these trainings take place in the same hospital on management and technology topics such as Cloud Storage.
Using advanced technology: Using advanced technology increases work efficiency, and thus the automation of hospital systems increases worker effectiveness and professionalism; for example, digital imaging and communications in medicine (DICOM) or cloud image storage.
Business follow-up: All hospital employees must be held accountable for their daily actions and outcomes, and everyone's commitment improves work discipline and adherence to laws.
Make a well-organized care system: The care system is typically found in all hospitals; however, its improvement leads to an increase in the effectiveness of the hospital's daily operations, which necessitates that all medical staff adhere to their appointments and do not postpone operations, as well as an organized management of the stock of medicines and medical supplies.
Develop an effective communication strategy: Effective communication is one of the most important challenges in hospital work, and failing to communicate leads to negative consequences for everyone, so hospital management success is largely dependent on finding channels of communication that are precisely defined according to the needs of the work.
Identify the hospital's weak points: Successful management must identify the hospital's weaknesses that increase the possibility of errors in order to focus on them and work to strengthen them, and then put the most efficient workers in charge of them to improve performance.
Maintain contact information indefinitely: Because hospital staff data is constantly changing, it is critical for the hospital to be able to communicate with anyone on the staff, especially in emergency situations, so it is critical to keep the staff contact information up to date.
Keep an eye on the following sections: Some departments, such as emergency and admission, require more attention than others, so good management ensures that these departments run efficiently and have the best staff available.
Concentrate on the patients: Successful management prioritizes the best interests of patients, as creative activities, modern technology, and other features are meaningless if the patient is in pain.
What is Health Care Administration?
Overseeing the work and operational aspects of institutions that provide health care, as well as supporting the institution's financial infrastructure, fall under the purview of health care. Health care executives are businesspeople, not doctors, and their primary duties include the following: [1]
Create and evaluate business and marketing policies and initiatives.
Assess business strategies.
Policy and procedure implementation within the organization.
Financial data collection and analysis
Employee recruitment and training
Ensure the quality of health-care services provided to patients.
Negotiations between various caregivers are mediated.
Improved productivity through collaboration with physicians and department heads.
Build public relations and communicate with shareholders.
Resources
I'm Hatice Kulali, a healthcare professional with a degree in Pharmacy from Marmara University. My passion for medical writing led me to create Therapidya, where I provide evidence-based and easy to understand information to help readers make informed decisions about their health.
This post is also available in: Dansk (Danish) Nederlands (Dutch) Français (French) Deutsch (German) עברית (Hebrew) Italiano (Italian) Polski (Polish) Română (Romanian) Русский (Russian) Türkçe (Turkish) Español (Spanish) Български (Bulgarian) Ελληνικά (Greek) Magyar (Hungarian) Português (Portuguese (Portugal))